Archive for December 11th, 2017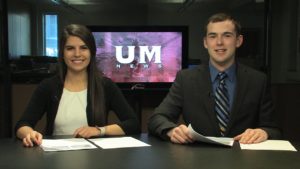 Today on UM News, we discuss the New Neighbors refugee documentary project in Missoula. On campus, we cover a tech-savvy piece of student art, a Native American student group fundraising for the 50th annual powwow, and a nationwide event called Up Til Dawn that visited the school. This show is produced by Aunica Koch and directed by Alex Kim.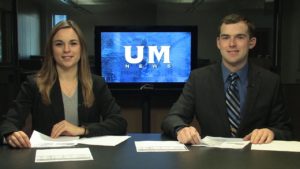 This week on UM News, a new documentary is bringing Missoula and refugees together. Plus, staying up all night to help St. Jude Children's Hospital, UM Musicians teaching a new way to play piano, a Native American Student group is raising money for it's 50th annual Pow-wow and how pets are relieving stress across the community. Matt Skillman and Meghan Bourassa anchor while Tiffany Folkes directs.
By Wayne Stevenson
Local bicycle shop Free Cycles hosted an event on Friday, December 15th which brought two local bands to the stage inside their shop. Jackson Holte and the Highway Patrol, an Americana band, played late in the evening. Opening for them was Edgar Allan Kubrick, a folk and alternative band partially comprised of University of Montana students. Admission was free, but donations to Free Cycles were welcome. When not hosting events like this, Free Cycles is a bike shop that is open for community members to repair their own bicycles. Volunteers and staff assist visitors in learning how to fix their two-wheeled transportation, and classes are available as well. For more information, visit their website.