Author Archive for umnewsmontana@yahoo.com
This week on UM News, reporter Griffin Rerucha talks about a new space at UM that brings technology into a collaborative environment. Also, an event held on campus taught community members about drone safety. This weeks show was directed by Briane White and produced by Tessa Nadeau.
On UM News this week, we'll tell you about how one UM student planned a blood drive to make up for the fact that she can't donate because of health reasons. A UM alum helped organize another event involving glass recycling at Imagine Nation Brewing. Also, some UM students are putting their degrees to work in an upcoming Anthropology field trip to help out the Bridge River Indian Band. This show was directed by Briane White and produced by Tessa Nadeau.
In 2020, the University of Montana's School of Anthropology will be sending students on a field school excavation of a pit house occupied for 17 generations in British Columbia by the Bridge River Indian band. Meanwhile, graduate students are in the lab processing findings from the field school conducted at the Moon-Randolf historical homestead over the summer of 2019.
Doctoral candidate Nikki Manning led the field school over the summer. Manning took UM News on a tour of the homestead and discussed some of the findings from the site, as well as giving us a close-up look at how archaeologists process artifacts and other findings. Manning says that while the work done with the Bridge River band will be physical, much of the School of Anthropology's work with local Native American groups involves oral and written histories.
In this story Griffin Rerucha tells us a little bit about the new space opening up in the UC. Co-director of the Innovation factory Brad Allen says this spot was created so students could chase their dreams in an environment with all the resources necessary. This new space will do tutorials on how to use tools like laser cutters, 3D printers and more. After completion of these classes you can get a badge that says you know how to use this piece of equipment. The Innovation Factory is located above the bookstore in the UC and is open now.
Blood donations decrease during the winter season with only about three percent of eligible people donating but one university student is hoping to change that.
The Davidson Honors College and American Red Cross hosted a blood drive on campus. UM student Teigan Avery says she planned the event hoping to make up for the fact that she can't currently volunteer because of a health issue.
The university will host multiple blood drives through November. The next one is set for  November 12th.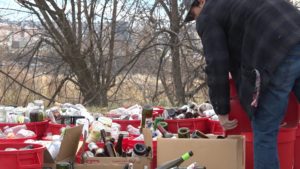 One um alum is getting is putting their environmental degree to work at imagine nation brewing. Ian finch, the community engagement coordinator, helped orchestrate an event with recycling works where community members could drop off their glass bottles. Finch says the work he does through Imagine Nation helps to encourage a dialog amongst patrons.
"When it comes to sustainability and environmentalism it takes a lot of introspection and a lot of personal change. We are all in this ship together, and so it is about having dialog about what we need and short comings that Missoula still has and you should do it in a very peaceable sort of way where we can actually make it happen as a community."
Finch said one way community members can be more environmentally conscious is by buying locally and ethically sourced products.
Imagine nation will be hosting a craft's fair in mid-December which will feature locally made items such as jewelry and cleaning soaps.
For UM News this week, you'll learn about what UM's School of Music is doing to bring a festive spirit to the community. You'll also learn about how a race raised money for UM students and how a non-profit organization benefited from Missoula's Haunted House. This show was produced by Tessa Nadeau and Directed by David Atkinson.
On UM News this week, you'll learn about what UM's School of Music does to help the community get ready for the holiday season. Also, we'll talk about how UM provided an opportunity for people of different faiths to discuss how they deal with death and grief. This newscast was produced by Tessa Nadeau and directed by David Atkinson.
Runners in the Missoula community are helping physical therapy students expand their education.
Skeleton Skedaddle is an annual race and fundraiser to help UM physical therapy student association. The seventy thousand dollars raised will help third year physical therapy students travel to a networking conference.  
Kelli Ross participated for the first time this year. She says that she selects races that allows her to donate to worthy groups.
More than one hundred and sixty runners participated during the day and raised over a thousand dollars more than last year.
The school of music hosts a variety concerts that can help people celebrate the holidays. I went to the halloween event called the Choral Spooktacular to see how they did this. families showed up to this musical performance with their kids dressed up in costume. At the end of the event children got to trick or treat on stage. Another holiday event coming up on December 14th is the 8th annual holiday swing. This concert is similar to the choral Spooktaular but is Christmas themed.