About Us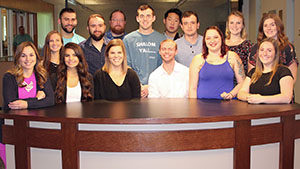 UM News is a weekly news segment produced by senior broadcast journalism students at the University of Montana School of Journalism and Department of Radio-Television.  The students work in Don Anderson Hall and produce the news segments in the Don Oliver Television Studios.  UM News airs weekly during Autumn Semester on KPAX-TV and ABC Montana.  Meet this years staff:
Maria Anderson came to the University of Montana from Kent, Washington to study journalism and Spanish. She hopes to find a career in sports broadcasting, where she utilizes both degrees to share unique stories of athletes.
Meghan Bourassa is a senior at the university. Currently working for ABC FOX Montana as a weather anchor; she enjoys being in the outdoors no matter if it's hot out, raining, or snowing.
Drew Cox-Koulman is a senior at the School of Journalism. He plans on graduating next spring.
Meri DeMarois was born and raised in Missoula, MT. She went to Sentinel High School where she worked for Spartan TV and PBS NewsHour Student Reporting Labs before graduating in 2014 and continuing on to the University of Montana School of Journalism. She's had work aired on PBS NewsHour, and has won several awards for her packages. Meri likes fresh flower bouquets, ghost hunting, and Montana Mules.
Tiffany Folkes is a senior from Duvall, Washington studying broadcast journalism. When she isn't juggling work and class, you can find her editing videos and photos at coffee shops or hiking up a mountain. Her future aspirations include creating environmental documentaries, hiking the PCT and owning a tiny house.
Alex Kim
Aunica Koch is a senior from Bozeman, Montana studying broadcast journalism. She aspires to be a National Football League sideline reporter, preferably for the Denver Broncos. When she's not focused on football, she loves spending time with her husband and two pugs. Aunica graduates in the spring of 2017.
Matthew Skillman is a senior at UM from Ennis, Montana.  This past summer he was an intern reporting for ABC-Fox Montana.  Matthew is also enrolled in the Army ROTC program at UM.  When he graduates in spring 2018, he will have a commission as a second lieutenant in the U.S. Army.
Wayne Stevenson is a senior from Hobson, Montana. After transferring to UM, he got deeply involved in the J-School. He is focusing on broadcast, and after graduation plans to either pursue a law degree or work in television news as a reporter.
DJ Stewart is a senior in the UM broadcast program. He hopes to pursue a career in sports broadcasting after school. In addition to UM news, he also works at ABC Fox Montana where he shoots, edits, and writes for the sports shows and at SWX Montana where he does graphics, camera and producing for their live broadcast games. In his spare time, he enjoys long walks on the beach and dipping French fries in Wendy's frosties because it's weird if you don't do that.
Mederios Whitworth-Babb was born in raised in Butte, America. She is a senior and is set to graduate in December 2017 with a major in journalism and a minor in business administration. Mederios is an ambitious reporter who loves to find and share other people's stories. In her spare time, she enjoys hiking, skiing, playing tennis, and most importantly watching NFL football. Her dream is to one day become a sideline reporter for the NFL, where she would give injury updates and interview the coaches and players.
Natasha is a Montana native from the beautiful Flathead valley. She came to study RTV production journalism and media arts at U-m because she hopes to work in film or make documentaries. She is currently interning for the Big Sky Film Institute and hopes to travel when she graduates in the spring of 2018. In her spare time she enjoys all forms of entertainment, spending time with friends and family, and playing with the "cutest puppy in the world" Kozmo.