Tag: UM Journalism Program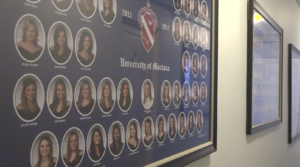 College Greek systems face a crisis nationwide as retraction rates lead to smaller pledge classes and fewer members. This week, Laura Freeman shows how one sorority at the University of Montana is going against the norm.
This week on UM News we visited one UM Alumnus who uses his love of ice skating to keep kids active in an after school program. Reporter Ellie Baty also reported on the $5 million dollar gift that the University of Montana received from the Alice Lee Lund Charitable Trust.  Finally UM News got the details on exactly how much the city of Missoula benefits when the Griz football team plays at home. Produced by Ally Barry and Directed by Grant Herzog.