Blog Archives
This week on UM News, anchors Jenna Heberden and Allison Molin tell us about Fall Feastival and the University's Farm to College Program, how students volunteer to help children overseas, why one alumnus needs the community's help, and how a UM professor is helping Missoula residents that are bothered by a strange odor in their neighborhoods.
This week anchors Mackenzie Enich and Jenna Heberden discussed how  other college campuses across the country are adopting UM'S PETSA Sexual Assault Prevention Program.
Directed by Cole Havens.
Produced by Mahkia Clark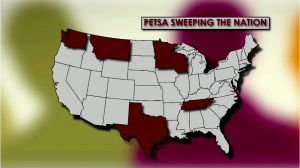 College campuses across the nation look to the University of Montana for a sexual assault prevention education program. Mackenzie Enich found out how UM's program is growing beyond the treasure state.
​