Tag: basketball
This we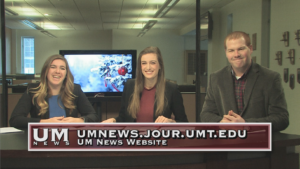 ek on UM news Ally Barry and Braly Whisler show what to expect when preparing to head into the snow for winter activities. Community members give back to students by bringing dogs to campus during the week before finals. Grizzly Service gives back to the community this holiday season by holding its first annual coat drive. Reporter Kempson Cross joins us in the studio to show how the men's Griz basketball team brings back the Zoo to their games. A holiday classic is brought to the stage when Missoula Community Theatre preforms A Christmas Story.
Montana Griz basketball is bringing back "The Zoo." UM News reporter Kempson Cross and photographer Spencer Jakobi tell us about plans to pack Dahlberg Arena for every home game. Students get into home games free with their Griz Card and schedules are available online…but the team wants all of Zootown behind them.
UM News Reporter Dustin Askim and Wyatt Melin swung by Lady Griz practice to see Montana legend Robin Selvig in his element. Selvig has led UM to 33 winning seasons, 28 20-win seasons, 23 conference championships and 20 NCAA tournaments. He has an overall record of 799-255, and will look for win No. 800 Monday, November 18th at Dahlberg Arena against the University of Portland Pilots.