Uncategorized
This week on UM News, reporter Caryn Foehringer and photographer Chelsea Reichard track down where UM's food comes from and how it benefits the Missoula community. We also check in with UM's Blackstone Launchpad as it continues to help students reach their business dreams.
This newscast was anchored by Caryn Foehringer and Tasha Cain. Behind the scenes, Colter Lairy directed while Ethan Fitzgerald produced.
Over 30 non-profit organizations from the Missoula area present volunteer opportunities for students. University of Montana students find their passion for volunteering at a bi-semester volunteer fair. Associate Director of Community Engagement says that finding a cause students are passionate about,breaks the campus to community barriers many students feel when they get caught up in classes and homework.
The University of Montana will be getting a new auditorium where teachers, legislators, researchers and students can gather to be inspired and equipped to learn.
Ali Auditorium will be connected to the west end of the Education building on the university.
The Alice Lee Lund Charitable trust gave a 5 million dollar gift to the college to make expanding its facilities and building Ali Auditorium possible.
The auditorium will soon be the largest classroom and presentation venue at UM.
It will provide a dynamic, stimulating environment for numerous statewide, national and international seminars, conferences and lectures.
Additionally, it will be open to departments across U-M's campus and local community groups, making it a valuable addition to the region as a whole.
Communications and outreach director at the college of education, Peter Knox, says they are incredibly grateful for this opportunity that the Lund trust has provided the university.
"It's incredibly powerful to have somebody give a very substantial gift like that and feel so powerful about their experience at UM and part of our education program. It says a lot about what we do here and the type of graduates and students we have in our program who feel compelled to give back to their field and the organization that got them to where they are," said Know.
Knox said the construction date for the auditorium is still to be determined, anticipates groundbreaking could be early next year or in to 2018.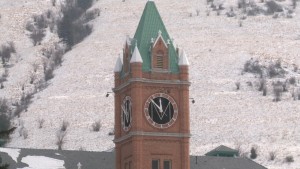 UM's current six week winter break takes students out of the community to spend time at home. Photographer Carrie Miller and reporter Dominique Giusti checked out how a plan to shorten the break by two weeks may help students who have to choose between family and a job.
The University of Montana is beginning the switch to solar power to cut down on greenhouse gases, and now a new community driven initiative is working to help Missoula residents install panels of their own Solarize Missoula is a new program that's helping to educate the people of Missoula about using solar energy to power their homes instead of fossil fuels. ClimateSmart Director Amy Cilimburg says that lots of people who attend their workshops are interested in making the switch.
Colder weather brings more animals to the humane society which calls for a little extra help around the holidays. Photographer Carrie Miller and reporter Dominique Giusti visited these furry friends looking for a new home.