Author Archive for umnewsmontana@yahoo.com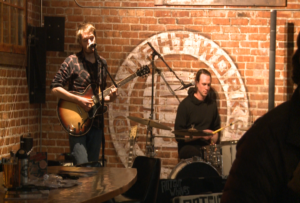 A local brewery in Missoula, Draught Works, holds a fundraising event named "Cheers For Charity". This week, UM student created record label, Switchback records was able to attend Cheers for Charity to promote thier newly signed bang, Rot Gut Whines. Draught Works has worked with multiple organizations and charities from the Alzheimer's association to various radio stations and student groups around Missoula. Photographer Ryan McKinley and reporter Jack Ginsburg attended Cheers for Charity this week.
Used tur
f from Washington Grizzly Stadium is impacting a local dog business in Missoula. Alpine Canine is using the old stadium turf to improve the kennels. The company is not your ordinary dog kenneling business, it also buses dogs in special buses to the hiking area. Reporter Tasha Cain and Grant Herzog fetched the story.
One UM student group promotes quality of life in the University District. The Neighborhood Ambassador Program pays a monthly visit to each house. They follow up on complaints and help build relationships between student renters and permanent homeowners. Neighborhood Ambassador Bryce Rowe says he enjoys reaching out to the community. The program also communicates through their newsletter, blog, and Facebook page.
The University of Montana and Montana State are helping feed the hungry with some friendly competition. The Missoula Food Bank sees over 7,000 people a month, and the demand for donations goes up during the holidays. Donation events happen throughout November including a dance-a-thon and the Kids Empower Pack Build. In 2015, UM and MSU combined collected more than 540,000 pounds of food. Reporter Caryn Foehringer and photographer Colter Lairy find out how Can the Cats and Can the Griz help increase donations.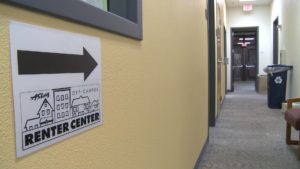 The ASUM Off-Campus Renter Center advises students and non-students on problems ranging from household maintenance to handling security deposits. Director Mary O'Malley says she refers some clients to Legal Services…but enjoys providing free tips regarding rental disputes. O'Malley says she hopes more students and non-students find out about the Renter Center before they have a serious problem.
An annual holiday program is helping connect the UM campus to homeless Veterans in the community. The Adopt-A-Vet program matches up people on campus wanting to sponsor a homeless veteran holiday over the holidays. UM reporter Braly Whisler and photographer Mason Birgenheier went out to see how this is impacting the veterans.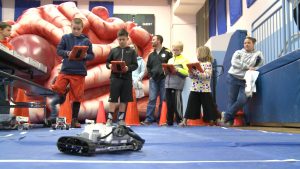 SpectrUM discovery area's mobile science program travels the state of Montana bringing interactive science activities to young kids. UM News reporter Jack Ginsburg and Photographer Grant Herzog went to Frenchtown Elementary's Science Palooza to check it out.
This week on UM News the Honors Student Association helps a community organization feed the hungry and a UM student works with a Missoula non-profit to reduce child abuse. Plus one adventure seeker takes slack-lining to new heights. Anchors Jack Ginsburg and Caryn Foehringer are joined by live reporter Tasha Cain. The show is directed by Ryan McKinley and produced by Kempson Cross.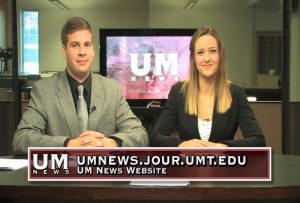 Jack Ginsburg and Ellie Baty show us how UM students are giving back this holiday season. Live reporter Caryn Foehringer tells us why it's so important to donate blood over the holiday season. Find out why UM students were out trick-or-treating this Halloween. And we also see how kids in the community can get up-close with science.
The University of Montana and Montana State students are helping fight the blood shortage that happens around the holiday season. The annual competition between the schools comes at just the right time of the year to help the Red Cross with donations. Each donation has the potential to save three lives. One of the reasons donations drop is because routine donors are out of town. Reporter Caryn Foehringer and photographer Spencer Jakobi went to a blood drive to see what it means to community to donate. For dates on future blood drives in the month of November click here.