Author Archive for umnewsmontana@yahoo.com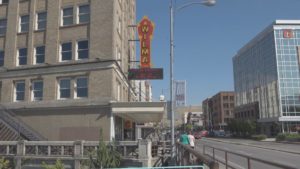 Shows and events are winding down in the Missoula area, but that doesn't mean summer is over just yet. Take a look at how the Entertainment Management Program is expanding. Reported by Andrea Dobbins. Edited by Kip Vetos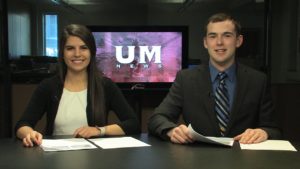 Today on UM News, we discuss the New Neighbors refugee documentary project in Missoula. On campus, we cover a tech-savvy piece of student art, a Native American student group fundraising for the 50th annual powwow, and a nationwide event called Up Til Dawn that visited the school. This show is produced by Aunica Koch and directed by Alex Kim.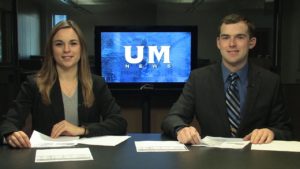 This week on UM News, a new documentary is bringing Missoula and refugees together. Plus, staying up all night to help St. Jude Children's Hospital, UM Musicians teaching a new way to play piano, a Native American Student group is raising money for it's 50th annual Pow-wow and how pets are relieving stress across the community. Matt Skillman and Meghan Bourassa anchor while Tiffany Folkes directs.
By Wayne Stevenson
Local bicycle shop Free Cycles hosted an event on Friday, December 15th which brought two local bands to the stage inside their shop. Jackson Holte and the Highway Patrol, an Americana band, played late in the evening. Opening for them was Edgar Allan Kubrick, a folk and alternative band partially comprised of University of Montana students. Admission was free, but donations to Free Cycles were welcome. When not hosting events like this, Free Cycles is a bike shop that is open for community members to repair their own bicycles. Volunteers and staff assist visitors in learning how to fix their two-wheeled transportation, and classes are available as well. For more information, visit their website.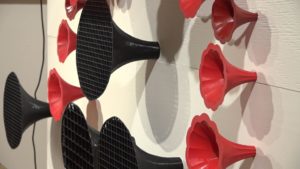 The University Center Gallery hosts art exhibits by students and faculty throughout the school year, like the current exhibit "Transmission Park" by Master of Fine Arts student Jesse Blumenthal. Reporter Wayne Stevenson spoke with Blumenthal about this exhibit, which combines visuals and sound to make a piece that he says relates to how our culture interacts with technology. For a schedule of UC Gallery exhibits, visit https://www.umt.edu/uc/uc-gallery/exhibit-schedule/.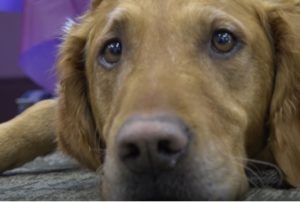 Pet Partners was seen at the UM event Stress Less. But that's not the only place you can find this group! Reporter Meghan Bourassa went to find out more on this group of volunteers.
Four Piano majors at the UM School of Music completed research on left-handed piano pieces.  The left hand is used in piano for tempo and rhythm while the right hand is used for a majority of the notes.  The students' presentation showed the limitations of the left hand and provided exercises to further develop it.  Their project was selected to be presented at the Music Teachers National Association Conference in Orlando, Florida.  Reporter Matt Skillman investigated how the students hope their project can help pianists improve their skill.
Kyiyo Student Association is reaching out to the community to keep one of their oldest traditions alive. UM Reporter Mederios Whitworth-Babb tell us what events the group is planning to reach it's fundraising goal of 10,000 dollars for the 50th Pow-Wow on April 21st and 22nd.
A group of University of Montana students are halfway to their goal of $45,000 for kids and families at St. Jude's Children Research Hospital. Their latest event, Up Til Dawn brought out just under 200 people to celebrate the funds they've raised so far and to spread the word about St. Jude's work. Reporter Meri DeMarois went to Up Til Dawn to find out what inspires the group. They're accepting donations through the end of April 2017. To donate visit www.fundraising.stjude.org/montana
Missoulians, University of Montana students and refugees from Congo are working together for a new documentary series. The New Neighbors project gives refugees an opportunity to share their stories through unfiltered and self-directed documentaries. UM News Reporter Maria Anderson shows how these documentaries aim to humanize the new Missoulians and create a more unified community.