Author Archive for umnewsmontana@yahoo.com
In this UM News show reporter Tessa Nadeau talks to some UM students about why they do or don't get their flu shots. Then Tina Brennan goes to some of the diverse U events and talks about diversity at the University. This show was directed by Graham Garner and produced by Griffin Rerucha.
For two decades, the Missoula Food Bank has competed with the Bozeman Food Bank to see which can collect the most food in the Can the Cats, Can the Griz food drive during the Brawl of the Wild. This year's food drive will benefit the food bank as well as the new UM Food Pantry. Bozeman has won for the last sixteen years, but events director Amanda Ceaser says Missoula will crush the competition this year.
"This is really a food drive where the whole town gets involved. It's this fun competition where like, the football scene and the Griz scene and the giving scene of like, food bank donors all get to come together for one big, big competition," says Ceaser.
Last year Missoula collected four hundred four thousand pounds of food while Bozeman collected roughly forty thousand pounds more. Can the Cats will end on Saturday, November 23 at the Brawl of the Wild.
Story by David Atkinson.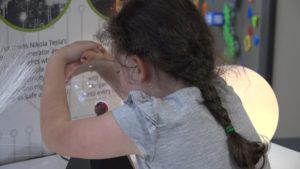 The University of Montana SpectrUM discovery area is collaborating with the Missoula Public Library and the Children's Museum to come together under a single roof. It is working to increase accessibility within the community.    
The hands-on science center is designed to promote learning within the public. It is instructed by UM students and other members of the community to inspire the youth to pursue higher education and careers in science.
Caitlin Ervin, the museum program coordinator at SpectrUM, says that this move the library will help the center be more accessible to the public. Ervin says in addition, they hope this will engage the program more with the university by providing a live lab for science students to work.
SpectrUM hopes to be open in its new place this coming summer.
Missoula's flu season is off to a slow start, but Missoula County Health Official Pam Whitney says it's still important to get vaccinated. She recently went to Imagine Nation Brewing to give free flu shots to people without health insurance. Whitney said they plan on going to other breweries around Montana in the next couple of months.
One of the university's goals is to promote diversity and equality on campus and in the community.
"Diverse U" coordinator Joseph Grady says UM's annual event is aimed at starting a dialog among students and community members.
He says the best way to do that is through in-person conversations.
"What we are trying to do here is get people away from the computer screen and to engage personally. Looking at each other and saying, you know, I think we all need a place to land, I think change is going to be possible we have to be willing to sit down and have that face to face dialog and be willing to be uncomfortable"
Grady says some Missoula businesses help continue the conversation off campus by hosting community discussions.
Written and edited by Tina Brennan
The Missoula County Health Department says it's vital for students to get a flu shot because they live and study in close proximity, which makes it easier for the flu to spread into the community. Reporter Tessa Nadeau talked with a UM Pharmacist and students to understand why students do or don't get vaccinated.
This week on UM News, reporter Griffin Rerucha talks about a new space at UM that brings technology into a collaborative environment. Also, an event held on campus taught community members about drone safety. This weeks show was directed by Briane White and produced by Tessa Nadeau.
On UM News this week, we'll tell you about how one UM student planned a blood drive to make up for the fact that she can't donate because of health reasons. A UM alum helped organize another event involving glass recycling at Imagine Nation Brewing. Also, some UM students are putting their degrees to work in an upcoming Anthropology field trip to help out the Bridge River Indian Band. This show was directed by Briane White and produced by Tessa Nadeau.
In 2020, the University of Montana's School of Anthropology will be sending students on a field school excavation of a pit house occupied for 17 generations in British Columbia by the Bridge River Indian band. Meanwhile, graduate students are in the lab processing findings from the field school conducted at the Moon-Randolf historical homestead over the summer of 2019.
Doctoral candidate Nikki Manning led the field school over the summer. Manning took UM News on a tour of the homestead and discussed some of the findings from the site, as well as giving us a close-up look at how archaeologists process artifacts and other findings. Manning says that while the work done with the Bridge River band will be physical, much of the School of Anthropology's work with local Native American groups involves oral and written histories.
Story by David Atkinson
In this story Griffin Rerucha tells us a little bit about the new space opening up in the UC. Co-director of the Innovation factory Brad Allen says this spot was created so students could chase their dreams in an environment with all the resources necessary. This new space will do tutorials on how to use tools like laser cutters, 3D printers and more. After completion of these classes you can get a badge that says you know how to use this piece of equipment. The Innovation Factory is located above the bookstore in the UC and is open now.