Author Archive for umnewsmontana@yahoo.com
Kayle, a food delivery service, is bringing students and the community healthy meals. UM News Reporter Ally Barry found out how the service is expanding and bringing unique meals to the University area.
Montana Griz basketball is bringing back "The Zoo." UM News reporter Kempson Cross and photographer Spencer Jakobi tell us about plans to pack Dahlberg Arena for every home game. Students get into home games free with their Griz Card and schedules are available online…but the team wants all of Zootown behind them.
The community came to the University Center to help students relax and stress less for the upcoming finals week with therapy dogs. Students are able to pet and hang out with the dogs between their classes. Pet Partners brought the dogs and are just one of the organizations that have been coming to Stress Less for more than 7 years. Handlers say the dogs play an important role in student's positively during finals week.
The Missoula Commu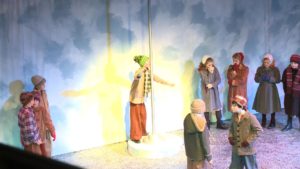 nity Theater is bringing one of the most beloved Christmas stories to the stage, A Christmas Story- The Musical. Since 1977 the Missoula Children's Community Theater has been gifting people with a change to step out of their ordinary lives, and step into a world of magic. This world of magic includes a certain leg lamp, dares that involve licking a frozen flag pole, and of course a red rider bb gun with compass and a thingy that tells time A Christmas Story- The Musical goes through the 18th of December.
PE Teachers in Montana cities are facing a decline in available positions. Budget cuts have led to general teachers teaching PE despite not being certified. UM reporter Braly Whisler went out to see how this is effecting future teachers looking for jobs.
Veterans around the Missoula area are reacting to Senator Jon Tester (D-Montana) move up in the Veteran's Affairs Committee. Veterans in the community are doing their part to support each other and get the resources they need.
T
his week on UM News, reporter Ally Barry and photographer Spencer Jakobi found out why the Big Brother Big Sister wait list is growing. We also check in with student veterans to see how they are hoping John Tester's new position will bring improvements.   We also find out one UM student group is helping create a better community in the University District. This newscast was anchored by Braly Whisler and Ally Barry. Behind the scenes, Caryn Foehringer produced while Chelsea Reichard directed.
This week on UM News, Mayor John Engen talks with reporter Ally Barry about the future of UM in the wake of President Royce Engstrom resigning his position as the  University's President, reporter Braly Whisler finds out why there is a shortage of P.E. teaching jobs across the state, and reporter Ethan Fitzgerald attends the UM Student Involvement Networks's Harry Potter extravaganza. Produced by Ellie Baty and directed by Mason Birgenheier.
UM News reporter Ally Barry  and photographer Spencer Jakobi, spoke with The Big Brothers and Big Sisters program in Missoula, MT about their need for volunteers. The mentor-ship program matches its volunteers with kids. The volunteers spend several hours a week with their "littles" playing games and doing fun activities.

The student involvement network at u-m is aiming to engage the Missoula community by hosting  events that bring the community to campus. Over the past week, um put on a harry potter extravaganza with multiple activities that included the growing sport of Quittage. The event brought um students together and it also attracted younger members of the Missoula community. Student involvement event director, Tessa Feemster says events like this help the university reach it's goals. The student involvement network plans to continue to craft events that invite the public to participate.